Gladtree makes buttons! We make unique 1.25" custom pins. Great for bands, businesses and birthdays!
With an image that you supply, or our custom design from your idea, our buttons look spiffy.
Also, with most orders, we can ship within a couple of days (fast!).
Please email "buttons-at-gladtree-dot-com" for more info.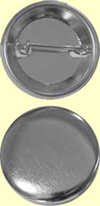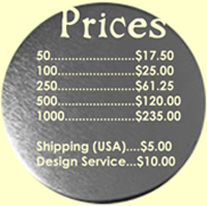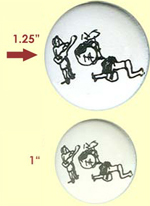 *Email us about prices on quantities not listed.
IMAGE REQUIREMENTS
If you have your own design for a button, you can send us either:
An email with a .jpg or .psd file (in CMYK mode, if possible) with at least 300dpi and 1.625" square or circle
US Postal mail an image (preferably in a circle) of at least 3" (mailing address below)
ORDERING INFO
Orders can be made with up to 2 different designs (split up any way you like). If you'd like more, there is a $5 setup fee for each additional design. Shipping is $5 in the USA, please email if you're international.
Buttons are printed on white paper, for $1 extra per 25 buttons they can be printed on transparency film.
Email us (buttons-at-gladtree-dot-com) with your order before you pay and we will email you an invoice for the exact amount.
Payment is due before we make your buttons- we accept PayPal, Check (made out to "Anna Klein"), or Money Order. If you're using PayPal, send funds to (buttons-at-gladtree-dot-com).
Send along:
1.) Quantity of buttons you would like to order
2.) Your design
3.) Your contact info / mailing address
4.) & your payment
If you'd prefer to order through the mail- send your order, as detailed above, to:



Gladtree Buttons
c/o Anna Klein
82 Beacon Ave
Holyoke, MA 01040