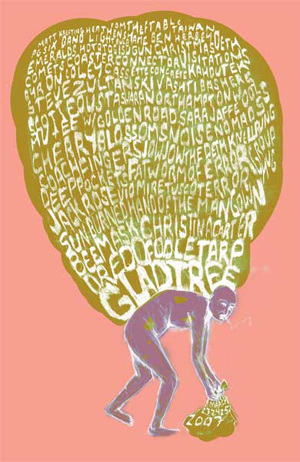 Gladtree Festival
March 23-25, 2007
Amherst, MA
"come for a show, stay for a lifetime."
Friday, March 23rd
@ Guerrilla One Gallery, Easthampton, MA


Mat Trumbull

Tarp
Joshua Burkett and Conrad Capistran, synth masters, and western mass shut-ins.

Bee Mask
From Cleveland, Ohio. sound art/drone-noise of a highly developed nature. nature and art? what am I saying!?

Christina Carter
uniquely beautiful guitar/voice. timeless, ageless, placeless.

Tusco Terror
From Akron, Ohio. another heavy noise squadron. where do they come from?

Ben Hersey

Dredd Foole
vocal legend, free spirit, reluctant hero. from Vermont, no less!

MV&EE with the Golden Road
Vermont's Matt Valentine and Erika Elder with the "Golden Road" group-Samara Lubelski (also of Tower Recordings), and Willie Lane (of Night Plower).

Saturday, March 24th
noon @ Mystery Train Records, Amherst, MA


Comet Coaster Connector
Tumblecat Poof Poofy Poof / Antro Rex duo! quiet to loud anxiety-noise. Easthampton fellows.

Gun Christmas
Albany, NY free-rock.

Group Hug

Vistitations
a new twist on the bedroom-psych thumbscrew... maine translated thru the abduction senario.

Laudable Pus
thought they were broken up? so did I! Holyoke, MA's craziest crazies. some of 'em aren't even from Holyoke!

id m theft able
Portland, ME whacko, sound-poet, sputterer, general noise maker.

Aswara
formerly Death Chants, and now outta Philly. space-drone meisters.

Jow Jow the Death Knell Rung
Northampton, MA clutter-folk. commune-style wanderings and trance immersions.
Saturday, March 24th
night @ Hampshire College Tavern, Amherst, MA


Emeralds
drone/noise crew from the great state of Ohio. releases (past and future) on such stalwart labels as Hanson, American Tapes, Ecstatic Peace, and Chondritic Sound.

Lightbulb
freedom rock, heavy on free - a loose and laid-back approach to gettin' it done. power-trio format, from western mass!

Gown

Matt Krefting

Hototogisu
monster drone-noise, bridging the US-UK divide. marcia bassett of double leopards, zaimph, and ghq + matthew bower of skullflower, sunroof, etc.

Byron Coley

P.G. Six Band
P.G. tames/fools Tono-Bungay dudes and others into rocking his songs!

Heathen Shame
Boston full-force noise-rock onslaught. Greg Kelley (nmperign, Anna Rampage, etc), Wayne+Kate (Major Stars, Chrystallized Movements, Twisted Village, etc).

Scott Foust

Sunburned Hand of the Man
collective-improv-rock-psych-noise behemouth from Boston, MA.
Sunday, March 25th
@ Hampshire College Red Barn, Amherst, MA


Vio Mire

Cassette Concrete

Kohoutek
psych improv from Washington, DC.

Noise Nomads
hefty slabs of distructo noise... or whitewash brain rubbing... Northampton, MA accepts you!

Fat Worm of Error
Northampton-based zane/color/energy rock. one load record, and so much more...

Vashti Bashers
The Vashti Bashers is a triple drum attack from J Mascis (Dinosaur Jr), Rick Myers, and Anna Klein (The Believers). a rare appearance after a rare appearance!

Sara Jaffe

Taiwan Deth
Taiwan Deth is another Nashville creation, this time in a noisier "psych-folk" vein. good god, they're good.

Coach Fingers
No Neck Blues Band offshoot that has become a new force unto itself with a sweet boogie-rock sound. "simply imagine The Dukes of Hazard" (Foxy Digitalis).

Northampton Wools
Northampton Wools is the distructo guitar duo of Thurston Moore (Sonic Youth) and the Bill Nace (x.o.4, Ceylon Mange and Vampire Belt). seen here (with Mark Morgan).

Steve Zultanski

Deep Pockets
Aaron (of Son of Earth, Sapat, and Dakin Squad Butt Fire) with Alan (aka Raw Thug, aka King Kau Muzaweh), a fellow Sapatian. "hanging out with sound" in Louisville, KY.

The Cherry Blossoms
Straight Outta Nashville, with a shuffling folk-rock sound that is utterly mystifying. spinning tales of heartfelt honesty that are both accessible and confounding.

Jack Rose
Based in Philadelphia, PA, Jack Rose is currently a leader in the American primitive guitar movement, a wing of the "free-folk" scene that draws its inspiration from the pioneering work of John Fahey, Robbie Basho and Sandy Bull. Acoustic guitar based, Rose's style ranges from quick ragtime jaunts to extended raga-style journeys.